Not All Heroes Wear Capes
The Hero of the Week award goes to Joslin Rhodes team members who go over and above their daily roles to help clients and colleagues.
The winner is chosen by the senior leadership team.
Award winners are chosen for how they embody our core values. These are:
We tell it like it is 💬 – We believe in honesty, we don't sugar coat it, we give you the facts so you have the power to make informed choices.
We champion the human outcome 🙌 – At the end of the day you don't reminisce about your pension or investments. You reminisce about things you used them for. So, whether that's retiring early to spend more time with loved ones, going on holiday to all the places you've dreamed of, or simply knowing you've enough for what matters to you. That's what really counts.
We simplify to empower 💡 – We share information in simple easy to understand terms, without the Jargon, so you feel like an expert too.
We give warmth and comfort ❤️ – We genuinely care about people feeling part of us, both our clients and colleagues. It's about helping you achieve the lifestyle you really want, safe in the knowledge everything's going to be OK.
We put the WOW into everything we do 🤩 – From our building to our people and our processes, we aim high, we pride ourselves on doing it better, much better.
Here's some of our recent winners:
Well done Ollie!
Ollie's our Client Services Administrator.
He received his nomination for putting in extra work and being an all round great help to not only his team but all others. 🙂
Ollie has really been putting the WOW into his work and that's what we love to see. 🤩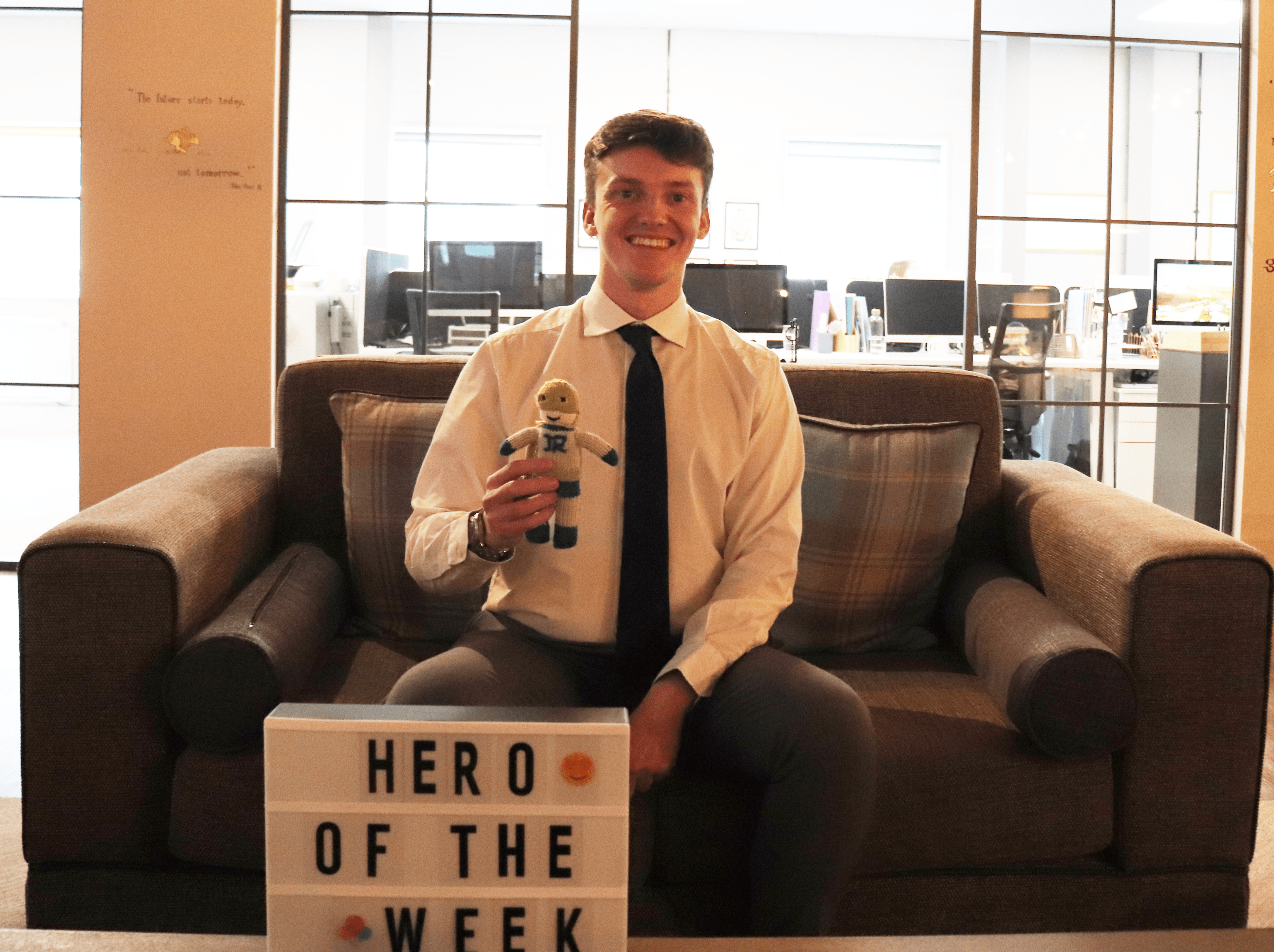 Aaron recently displayed our core value of giving warmth and comfort ❤️. After an event, he noticed two clients leaving in the rain 🌧️.
Aaron generously offered them a ride 🚗 home, ensuring they stayed dry and got home safely. His kind gesture embodied our core value perfectly 👍.
Congrats to Essam!
Essam's our IT Manager here at Joslin Rhodes. He's always on hand when those pesky computer gremlins strike 🖥💥
And yes, before you ask, we have tried switching it off and on again!
This week, he was on a mission to get IT equipment from Newcastle.
Whilst driving there, management needed time-critical training video files!
So, Essam pulled over and fixed the problem in a jiffy! Talk about multitasking 🤹.
Luciana our Discovery and Build Services Co-Ordinator, from the Client Services team, recently won the hero of the week award for leading the team training 👩‍🏫.
Not only did Luciana take on the team training, she simplified to empower complex processes to help educate and support the wider team 🤝.
Upcoming Events
September Client Celebration
Thursday, September 28th, 6pm-8pm at our Stockton Planning Rooms
Come along for an unforgettable evening of delicious nibbles & fizz, at our lovely Stockton Planning Rooms📅 Thursday, September 28th, 6pm-8pm.
We're keeping the dress code casual yet stylish (Boro shirts have collars, don't they?) 🔴⚪
You're more than welcome to bring friends along, the more the merrier 😄.
Places are limited, so click the link below to book your place 👇
Sharing's Caring – Recommend A Friend Scheme
Do you know someone who could also benefit from our help and advice?
If we think we can help, we'll offer them a free consultation and send you a little something to say thank you 🎁
Click the button below to find out more…
Other articles
Hold On, Is This A Scam?
🚨 Beware of a rising scam that promises a seamless path to reclaiming your tax refund. 💰
While financial companies lure you with a hassle-free approach, the shocking truth behind the curtain reveals a sinister trap waiting to ensnare unsuspecting victims. ⚠️
Fancy a Top Up
Did you know the State Pension Top Up deadline has been pushed back? As of June 2023 the deadline has been moved to the 5th April 2025.
And you need to take advantage of this change.
Our Recent Work With The Charity Mind
Recently the Joslin Rhodes team have attended the Bark In The Park event 🐶 and also had some team members take part in the Three Peaks Challenge ⛰️.
Talk To The Experts
Ready to talk? Our friendly team are here to help. Simply pop a few details into the form and we'll be in touch.
Real Advice, For Real People
We'll show you:
When you can afford to retire
How much money you'll need in retirement
How to make the most of your pensions and other assets to fund your lifestyle
4.9 out of 5 stars on VouchedFor
"I cannot find fault with the service we received. From the warm yet professional welcome to the financial advice we were given. You as a company should be proud of the service you are providing"
Mr. W