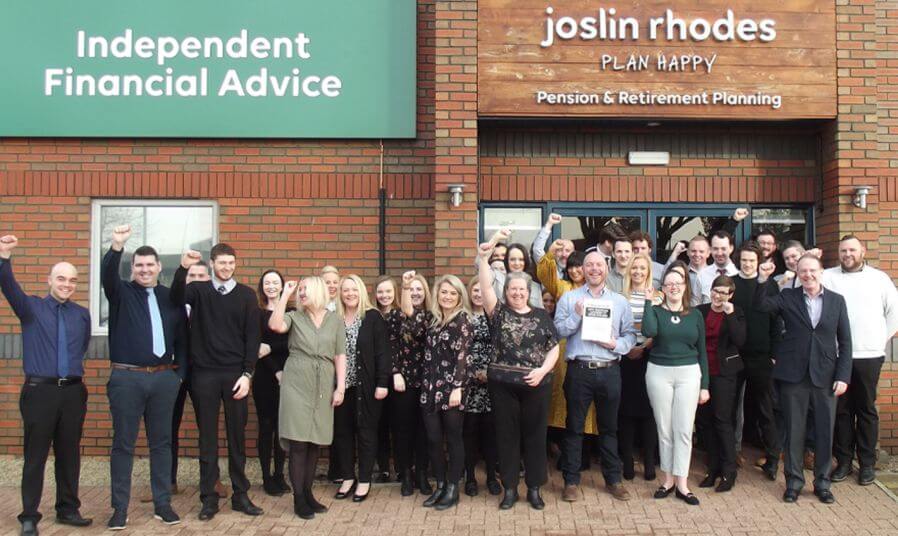 As part of our exciting plans for 2021 and beyond, we're delighted to be recruiting an Estate Planning Manager, which will be a key role in the business. 
We looking for someone who's up for a challenge and relentless in their drive to succeed.
The Opportunity
Joslin Rhodes has grown by being fantastic at what we do, merging life coaching with financial advice to really improve people's lives. We work primarily with ordinary folk at, or approaching retirement, coaching them through the life and money decisions they face.
As demand for our services continues to grow, we've identified the need for a passionate person with bags of potential to lead our Estate Planning team.
Estate Planning is all about protecting clients' financial planning, to give them the peace of mind that their assets and family are protected when they're no longer here. It could include things like:
Wills
Trusts
Lasting Power of Attorney
Care fees planning
Inheritance tax planning
Essentially, your job is to make sure what clients leave behind goes to the intended people.
Don't worry if you're not the finished article, we can help you get there. We want to see you're hungry enough to take ownership of the role and have the desire to develop.
We're looking for someone who wants to give customers the best possible experience, and who'll set the standards for the rest of the team to follow.
You'll be working with the project team, playing a key role in the reboot of the Joslin Rhodes Estate Planning service.
We'll support you along the way to help you get your professional qualifications, all while earning £24,000 – £45,000.
Find out more
We simplify to empower
We ask and answer the BIG questions
We give warmth & comfort
We put WOW in everything we do
Working with the project team, play a key role in the reboot of the Joslin Rhodes Estate Planning proposition
Full responsibility for the Sales and Operations functions of the Estate Planning team
Ensure that all processes across Sales and Operations are mapped and managed
Manage the transition to new processes
Manage the Estate Planning Budget
Hit the number
Ensure that the client experience is best in class
Prepare the business to operate outside of Joslin Rhodes, offering our services direct to customers and also to other financial advisers
Be able to sell the product range to B2B and B2C clients
Driven to succeed
Potential that we can help you unleash
Passionate
Be accountable and do what you say
Attention to detail
Take pride in your work
Professional and proactive
Lead by example with impeccable standards
Effective time management skills with the ability to multi-task
Be able to adjust and embrace change
A starting salary of £24,000 with earning potential of £45,000 depending on experience and performance
We'll support you in gaining your professional qualifications
Employer contributory pension scheme
Get out of bed every day and work with great people doing a fantastic job with amazing clients
Be a part of something unique and special that adds value
Have a job in a company that supports and champions the human outcome for the team and our clients
Send an email with an overview of who you are and why you think you'd make a great Estate Planning Manager along with a copy of your CV to recruitment@joslinrhodes.co.uk.
Remember, we're looking for potential. You don't have to be the finished article, just show us that you have the desire to be a top earner.
Closing Date: Open until we find the right person